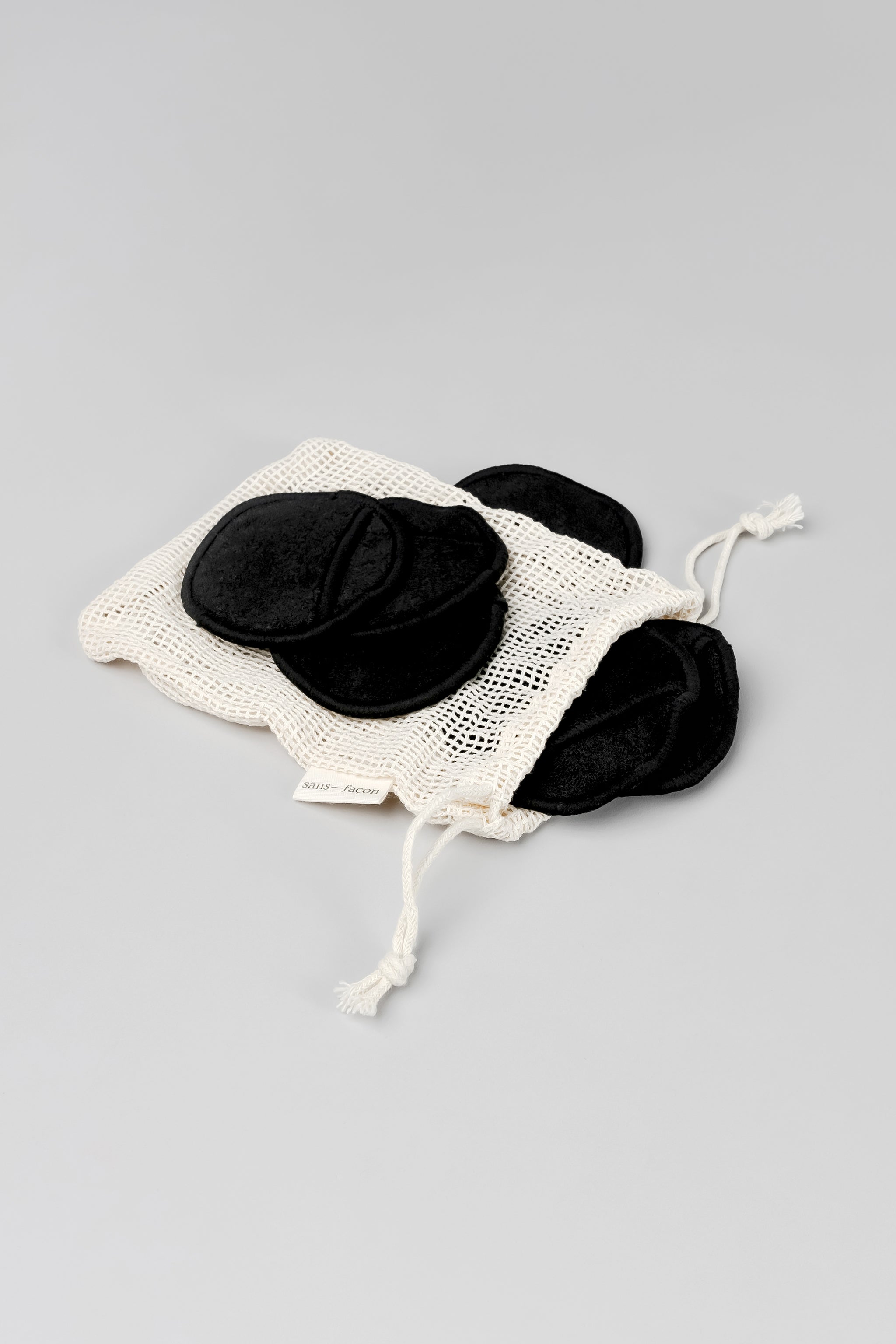 Description
These reusable pads are super gentle on your skin and perfect for easily removing your makeup.
Direction: Apply cleanser directly to the pads, add water as needed, and gently cleanse your face. Reusable pads are also ideal for applying your daily lotion. Rinse your pads with water after each use.
Composition: Bamboo fiber (80%) + cotton fiber (20%)
Wash with water
Tumble dry
Do not dry clean
Do not bleach
Do not iron
This product contains 6 cleaning pads and a wash bag.
Il faut que je m'habitue mais j'aime le concept. Ils sont très doux et facilement lavables.
Je cherchais une option plus ecolo au tampon demaquillant. C'est vraiment un must 👌🏼 Se lave très bien ☺️
Mes prefs!
Doux, bien pensé et bon pour l'environnement!
Tout simplement parfait!
Super! Doux pour la peau et tellement pratique avwc l'espace pour les doigts!
Doux pour la peau!
Un gros oui pour les lingettes démaquillantes réutilisables! Je me lavait le visage a la main mais ces lingettes sont douce pour la peau et pratique avec l'espace pour le doigt !!!
Vegan
Discover superior quality vegan products.
Cruelty free
A statement that should be standard.
Paraben free
All our products are paraben free.
Made in Canada
Designed and developed in a Canadian laboratory.
Simple routine
Quality products, developed with a keen attention to detail, that will become your beauty essentials.
Frequently asked questions
Is it possible to try the products?
Yes. At the boutique Womance at 9100 John-Simons street, Quebec (QC) G2S0B9
Where are the products made?
All of our products are conceptualized, designed and developed in Canada.
Delivery
Free shipping
Shipping is free on purchases of $75 or more, anywhere in Canada except for certain remote areas To know more about it
Parcel tracking
All packages are shipped with a tracking number so you can check its progress. We recommend picking up your package quickly after delivery to avoid extreme temperature changes (very hot in summer or freezing in winter).
Fast delivery
Fast delivery, usually in 1-2 business days to most cities in Canada. For delivery in remote areas, allow for more time Learn more about our products.