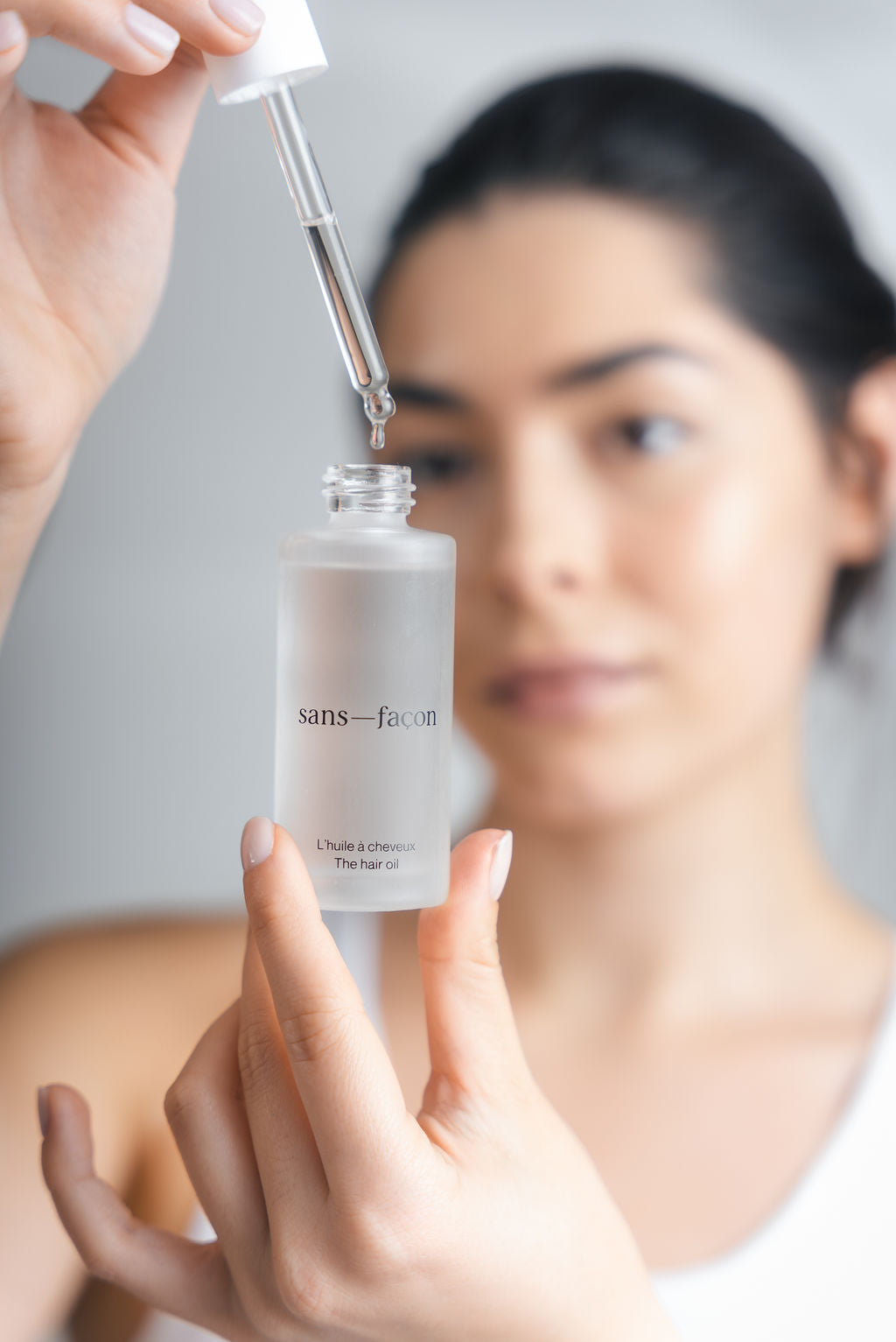 Description
Meet the newest ally in your hair care routine: the hair oil. It's perfect for all types of hair, whether fine or thick, dry or damaged, natural or dyed. This oil has a slight rose scent and controls sebum production without leaving your hair feeling greasy.
Its regenerative properties greatly promote hair growth and its intensely nourishing ingredients moisturize your hair, keeping it looking healthy and fresh. With its toning, softening and revitalizing properties, this oil delivers instant shine, silkiness and suppleness.
Use daily to get maximum results.
Usage Instructions
Use it two ways:
1. For moisturizing care, apply once or twice a week to towel-dried hair, focusing on the lengths and ends. Leave on for 5 to 10 minutes and rinse well.

2. For absolute shine, apply the oil to towel-dried hair, focusing on the lengths and ends, then style as usual. You can also use it as a finish on dry hair or to tame frizzy locks.
Expiry: 6 months once opened.
Ingredients :

Castor Oil: This miracle oil deeply nourishes and strengthens hair to help prevent breakage and to promote hair growth. Regular use will leave your hair stronger, healthier and shinier.

Argan Oil: Argan oil is regenerating and provides unparalleled hydration. It deeply nourishes the hair and scalp while providing protection against external elements like pollution, cold weather, and hot sun. It helps to repair split ends and to maintain the elasticity of your hair, leaving it shiny and supple, always looking fresh.

Jojoba Oil: Jojoba oil is widely known to stimulate hair growth and control sebum production without drying your hair out. It is particularly nourishing for dry and brittle hair. With its toning, softening and revitalizing properties, the oil is synonymous with shine, softness and suppleness.

All Ingredients: Dimethicone, Cyclotetrasiloxane, Cyclopentasi-loxane, Coco-Caprylate/Caprate, Argania Spinosa Kernel oil, Simmondsia Chinensis Seed Oil, Linum Usitatissmum (Linseed) Seed Oil, Tocopheryl Acetate, Parfum/Fragra
Ingrédients
| | |
| --- | --- |
| | Huile de lin : L'huile de lin est un agent revitalisant pour la peau ainsi qu'un antioxydant qui aide à lutter contre les radicaux libres dans les cheveux. La haute teneur en acide oméga-3 répare les mèches de cheveux sèches et cassantes et aide à renforcer vos cheveux et à améliorer leur élasticité. Il aide à combattre les bactéries nocives et à apaiser l'inflammation en combattant les pellicules dans son intégralité. Grâce à ses propriétés anti-inflammatoires, l'huile aide également à prévenir la perte de cheveux et est antipelliculaire. Sans oublier qu'elle scelle et protège les cheveux colorés. |
| | Huile d'argan : L'huile d'argan est régénératrice et d'une hydratation sans pareille. Elle nourrit le cuir chevelu et les cheveux en profondeur. L'huile protège les cheveux des agressions extérieures comme le froid, la pollution et les rayons du soleil. Elle répare les pointes fourchues redonnant brillance et souplesse aux cheveux. Elle contribue à maintenir l'élasticité de votre chevelure pour une apparence saine et fraîche. |
| | Huile de jojoba : L'huile de jojoba est grandement reconnue pour stimuler la pousse des cheveux et pour prévenir la déshydratation tout en nettoyant et en contrôlant la production de sébum. Nourrissante, l'huile est aussi idéale pour les cheveux secs et cassants. Par ses propriétés tonifiantes, assouplissantes et revitalisantes l'huile est synonyme de brillance, douceur et souplesse. |
Wow!
Depuis mon accouchement, j'ai le cuire chevelu extrêmement sec. J'ai commencé, une fois par semaine, à mettre l'huile sur tout mon cuire chevelu et mes cheveux quelques heures avant de les laver. Plus de démangeaisons! Je ne m'en passerait plus!
3e achat !
C'est la 3efois que je l'achète. Personnellement, je l'applique avec ma crème thermale sur cheveux propres et mouillés. Ça m'arrive de le mettre après utilisation d'outils chauffants. Mes cheveux sont brillants et j'ai beaucoup moins de frisottis :)
Un incontournable
Incontournable. J'en suis à ma 2e bouteille. L'essayer c'est l'adopter. Merci pour cette création!
Merveilleux
Je viens de recevoir mon huile à cheveux et je l'aime beaucoup.
Après 2 utilisations seulement, je vois déjà une différence. Mon cheveux est beaucoup plus soyeux sans être gras.
C'est super!
Impressionnant
L'huile rend mes cheveux soyeux et doux. Un beau produit québécois!
Vegan
Discover superior quality vegan products.
Cruelty free
A statement that should be standard.
Paraben free
All our products are paraben free.
Made in Canada
Designed and developed in a Canadian laboratory.
Simple routine
Quality products, developed with a keen attention to detail, that will become your beauty essentials.
Frequently asked questions
Is it possible to try the products?
Yes. At the boutique Womance at 9100 John-Simons street, Quebec (QC) G2S0B9
Where are the products made?
All of our products are conceptualized, designed and developed in Canada.
Delivery
Free shipping
Shipping is free on purchases of $75 or more, anywhere in Canada except for certain remote areas To know more about it
Parcel tracking
All packages are shipped with a tracking number so you can check its progress. We recommend picking up your package quickly after delivery to avoid extreme temperature changes (very hot in summer or freezing in winter).
Fast delivery
Fast delivery, usually in 1-2 business days to most cities in Canada. For delivery in remote areas, allow for more time Learn more about our products.