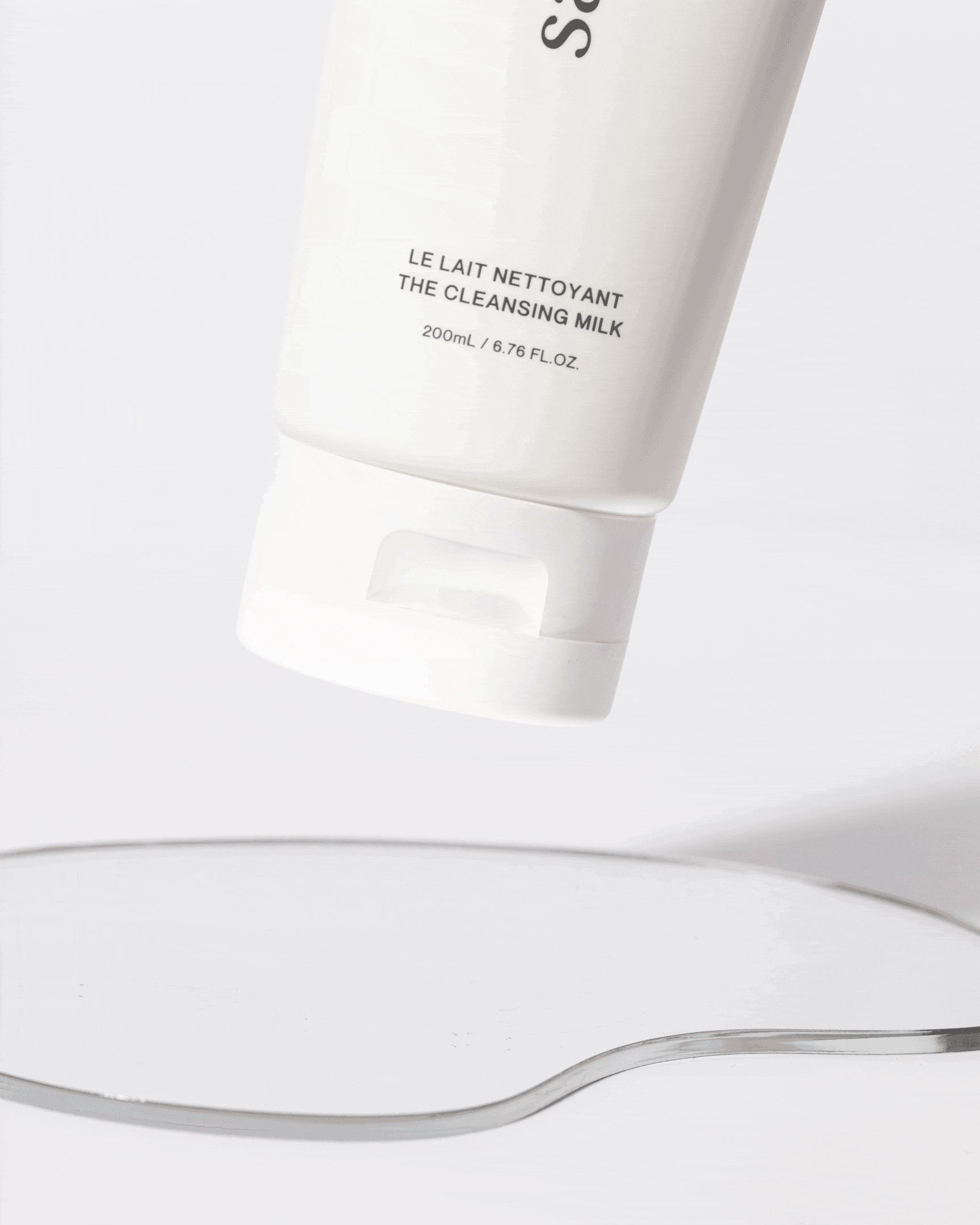 Description
Our cleansing milk gently removes makeup and carefully cleans any type of skin. It is soothing, moisturizing, softening and effective.
The cleansing milk is fragrance free and ideal for sensitive skin.
Format: 200ml/6.73FL.OZ.
Ingrédients
Huile de pépins de raisin : anti-âge, émolliente, protectrice, antioxydante.


La haute contenance en vitamines A et E lui confère des propriétés antioxydantes. Antioxydante, elle prévient le vieillissement cutané. Émolliente, elle nourrit la peau en profondeur. Régulatrice de sébum, elle est réputée pour être désincrustante.

Huile de jojoba : Prévient la déshydratation – Nourrissante et hydratante.

L'huile de jojoba prévient la déshydratation et revitalise les peaux asphyxiées. Sa texture sèche et sa composition originale lui permettent de renforcer le film hydrolipidique et de réguler le flux de sébum des peaux grasses.

Squalane végétal

Restaurateur de la barrière lipidique cutanée et protectrice, il convient particulièrement aux peaux sèches, sensibles, déshydratées et irritées. Le squalane possède d'excellentes propriétés d'étalement et une texture au toucher soyeuse, sèche et non grasse.
Meilleur nettoyant
J'adore ce nettoyant pour la peau! Ayant une peau sensible et sèche, ce produit est parfait pour moi. Il s'utilise très bien et laisse une peau douce et hydratée. Je l'utilise depuis 5 mois et je n'ai jamais eu une aussi belle peau!
Obsessed
Le parfait nettoyant de tous les jours, doux, texture incroyable, une peau bien nettoyée sans effet asséchant!
Wow!
Je l'adore! Il n'assèche pas la peau et nettoie vraiment en profondeur.
Douceur !
J'ai utilisé plusieurs autre nettoyant avant celui ci et c'était toujours pareille, après un bon nettoyage ma peau criant sécheresse! LA, pas du tout! Il est vraiment doux, nettoyant & heureusement aucune sensation désagréable de peau sèche lorsque je termine! J'adore l'emballage, facile a prendre.
Incroyable!!
Le lait nettoyant est tout simplement incroyable. La texture, l'efficacité, les bienfaits sur ma peau, il est devenu un incontournable!
Vegan
Discover superior quality vegan products.
Cruelty free
A statement that should be standard.
Paraben free
All our products are paraben free.
Made in Canada
Designed and developed in a Canadian laboratory.
Simple routine
Quality products, developed with a keen attention to detail, that will become your beauty essentials.
Frequently asked questions
Is it possible to try the products?
Yes. At the boutique Womance at 9100 John-Simons street, Quebec (QC) G2S0B9
Where are the products made?
All of our products are conceptualized, designed and developed in Canada.
Delivery
Free shipping
Shipping is free on purchases of $75 or more, anywhere in Canada except for certain remote areas To know more about it
Parcel tracking
All packages are shipped with a tracking number so you can check its progress. We recommend picking up your package quickly after delivery to avoid extreme temperature changes (very hot in summer or freezing in winter).
Fast delivery
Fast delivery, usually in 1-2 business days to most cities in Canada. For delivery in remote areas, allow for more time Learn more about our products.